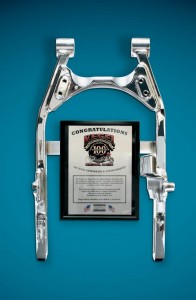 Reliable Plating Works plated a chrome swing arm for Rockford Process Control that was given to Kegel Harley-Davidson for their 100th anniversary. The text in the award reads:
"We Salute the Kegel Family, Kegel Harley Davidson and all employees past and present. 100 years of continuous service represents Freedom, Capitalism, Democracy and all that is right with America.
Your friends, a fellow Rockford business proudly supplying OEM parts to Harley Davidson, wish you continued success! Rockford Process Control, Inc.
Kegel Harley Davidson IS the ROCK in Rockford!"