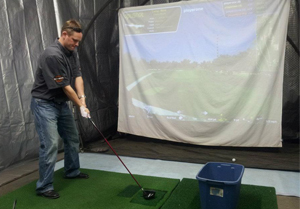 March is time for the RPW/Elite Virtual Golf Outing. This annual event puts your foursome (or if you sign up as a single we will put you into a foursome) against other customer, supplier or friend foursomes in a nine hole, simulated, scramble event.
Each day in March is open for you and or your foursome to sign up for a noon tee time. We will play on a simulator at the Elite Finishing LLC facility at 3270 S 3rd Street Milwaukee WI 53207. This event is free and will include lunch, golf and prizes. After all teams play (on different days throughout all of March) we tally up all the scores and prizes (low score, high score, long putt, long drive, short drive, most sand shots, most OB shots, most water shots,..) and hand out the prizes. You can track the event on both RPW and Elite's Facebook pages. This event has been a favorite of those that attend and it continues to grow each and every year.
Last year's winners were from TDS, winning in a tie breaker with QPS Staffing. They will be looking to repeat and QPS is looking for payback, so while those two fight it out we need the other teams to step up and challenge their legacy. Contact Jaime or Don to set up a tee time. Hope to see you at this fun event.
One more thing: you may want to look out for the exploding ball that has shown up occasionally!